Borrow E-Books, Audiobooks, and Digital Magazines
Need help getting started? Click here for online Getting Started Guides or contact library staff. Having Trouble? Click here for the Front Line Tech Support Form or contact library staff.
---
NextReads Newsletters

Subscribe to NextReads newsletters and get suggestions delivered right to your in-box. Interested in fiction, mystery, popular culture, biography and memoir or all of the above? Whether you're looking for children's, YA, or adult books, the NextReads newsletters have got you covered. Click here to check out all the options and to subscribe.

Preview titles featured in this month's newsletters below. See something interesting? Access the library's catalog to find out which library owns a book and/or to place a hold by clicking on any book cover.
---
Librarian-Created Guides
Attention book clubs: the Library has created the following title-specific book discussion guides. Access discussion questions, reviews, articles, interviews, read-alikes and more and request copies of the title in all available formats, all from one page!

New guides are being added, so check back regularly. Don't see the title your book club is discussing? Contact Adult Services Librarian Anya Berg to request a guide for your next book club meeting.

The Sellout by Paul Beatty Discussion Guide

The Nightingale by Kristin Hannah Discussion Guide

Fates and Furies by Lauren Groff Discussion Guide

Crooked Heart by Lissa Evans Discussion Guide

Kitchens of the Great Midwest by J. Ryan Stradal Discussion Guide

The Buried Giant by Kazuo Ishiguro Discussion Guide

My Brilliant Friend by Elena Ferrante Disscussion Guide

A Spool of Blue Thread by Anne Tyler Discussion Guide

Flight Behavior by Barbara Kingsolver Discussion Guide
The Goldfinch by Donna Tartt Discussion Guide
To Kill a Mockingbird by Harper Lee Discussion Guide
The Museum of Extraordinary Things Discussion Guide
---
E-Readers at the Palisades Free Library
Did you know?! The library lends e-readers to Palisades Free Library Cardholders! Do you have your own device and want to learn more about downloading e-books and audiobooks from the library? We can help with that, too! Visit this online guide for more information.
---
Find your next great read
NoveList will help you find books by your favorite authors or discover new authors through read-a-likes.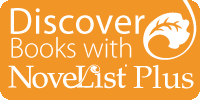 ---